Nando Lavao
Front-End Web Developer,
Graphic Designer, Illustrator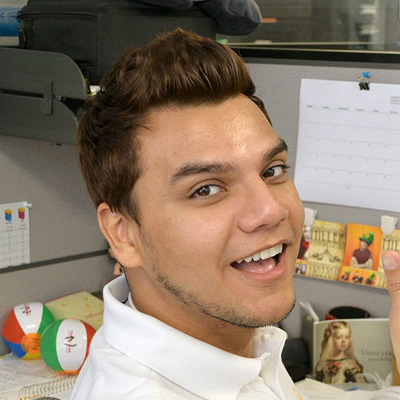 Hi there! I'm Nando. I'm a front-end web developer, graphic designer, illustrator, and video game artist based in Orlando, Florida. I've been in this ever-changing business for 13+ years.
You can view some of the projects I've worked on by clicking on the Portfolio button above and view a list of my experiences and skills below.
Don't be a stranger! Follow, connect, and watch me on Facebook, LinkedIn, and DeviantArt.
Experience
Associate Interface Designer
EA Sports - Electronic Arts
Nov 2015 – Present • Maitland, FL
Multimedia Team Specialist
@ Travel Planners International
Apr 2011 – Nov 2015 • Maitland, FL
Work with a PHP programmer to develop an entire online platform for travel agents to create dynamic invoices, quotes, add passengers, notes, and alerts.
Design logos, brochures, responsive websites, newsletters, e-mail marketing, banner ads, postcards, invitations, icons.
Create and update website content in HTML, CSS, jQuery.
Design display stands, program guides, invitations, and badges for conferences as well as trade shows.
Film and edit videos for trade shows and conferences using Adobe Premiere Pro.
Place print orders for in-house promotion pieces.
Freelance Designer
Dec 2008 – Present
M Salon Experience – Responsive website, business cards, menus, video editing. HTML, CSS, jQuery, WordPress, Bootstrap, Photoshop, Illustrator.
Florida Hospital – Designed awareness campaign, PowerPoint slideshows, Healthy 100 Churches website, banners, and icons. Healthy 100 publication newsletter. Adobe Illustrator, InDesign, Photoshop, Dreamweaver.
Pine Acres Assisted Living - Designed logo and business cards.
Web Designer & Illustrator
@ Florist Concierge
October 2010 – December 2010 • Orlando, FL
Designed and developed department website.
Designed comic book-style illustrations.
Created animations using Adobe Flash.
Graphic & Web Designer
@ Gallant, Inc.
May 2004 – October 2008 • Orlando, FL
Managed a team of graphic designers and web developers, and approved their work according to company's standards.
Experienced with design concepts for packaging and advertising.
Designed concepts and final comps for print advertising and websites.
Redesigned the company's image including logos, stationery, forms, and award winning website.
Created multiple projects for international renowned corporations.
On-going training classes to entire company personnel for better understanding of the design process.
Graphic & Web Design Intern
@ InVision Digital & Media Arts
February 2002 – December 2002 • Orlando, FL
Designed and developed the company website.
Learned video editing using Final Cut Pro and created a functional menu system using DVD Studio Pro.
Skills
Advanced
HTML, CSS, Bootstrap, Photoshop CC, Illustrator CC, Dreamweaver CC, InDesign CC, Fireworks CC, Premiere Pro CC, Microsoft Windows (7, 8, 10), Apple OS X
Intermediate
jQuery, WordPress, Microsoft Office, FileZilla, Sony Sound Forge, Sony ACID Pro 7, Sony Vegas Pro 9, Final Cut Pro, DVD Studio Pro.
Designed
Responsive websites, illustrations, e-mail stationery & marketing, banner ads, newsletters, postcards, logos, letterheads, business cards, icons, menus, brochures, logos, PowerPoint presentations, tickets, invitations, flyers, video production & editing, and more.
Other
Speak, read & write fluent Spanish. Adept with color pencils, charcoal, ink and acrylic paint. Workload prioritization and multi-tasking skills.